3 September 2023 / Laura Garvin Gomez
Jojoba Oil for Cuticles
Explore the wonders of jojoba oil for healthier cuticles.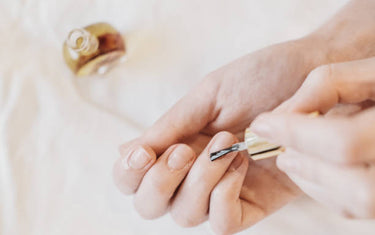 If you pay close attention to the way nail technicians treat your nails at a salon, you'll notice one of the last things they do is apply cuticle oil.
One of the oil's main ingredients is jojoba oil, which can be very beneficial for the overall health of your cuticles.
Jojoba oil is incredibly versatile and is packed with a host of vitamins and minerals that are good for the skin, including vitamins C, B and E, zinc and copper. Here we answer the question, "Is jojoba oil good for nails and cuticles" and offer advice on the best way to apply it.
Is jojoba oil good for cuticles?
Using jojoba oil for nails and cuticles offers some very helpful benefits, such as:
1. It can hydrate the cuticles
Applying jojoba oil to your cuticles can help to hydrate dry skin around the nails. Because it is a humectant ingredient, it can attract water from the air to support the top layer of skin. And compared to some other moisturisers, it doesn't evaporate as quickly, giving long-lasting protection for your skin.
2. Jojoba oil can strengthen weak and vulnerable nail plates
When the skin is hydrated, the nails are more supple, which is important in preventing nail breakage and hangnails. This can be particularly helpful during the warmer and colder months when your cuticles are exposed to more extreme weather conditions, such as UV rays and low temperatures.
3. Can support nail growth
Although you may not always want to keep them that way, being able to grow long nails demonstrates how healthy they are. Applying jojoba oil to your cuticles can help to heal existing nail damage but also offer protection against further damage taking place. When you rub it in, it can stimulate circulation, which also improves growth.
4. You can enjoy shinier, vibrant nails
If you have your nails done or treated by a technician, most will usually put a lot of cuticle oil (which contains jojoba oil), which is not only to benefit the health of the nail. The oil coats the skin so it amplifies shine, whilst also adding protection that prevents premature chipping or cracking.
How to use jojoba oil for cuticles
To use jojoba oil for cuticles, follow the steps below:
Clean your cuticles: Slowly wash your hands, focusing on the nail beds and fingertips. If you soak your cuticles in warm, soapy water, this can also help them to soften – which is a routine you can use right throughout the week.
Groom your cuticles: This isn't an essential part of the process, although, if you want to achieve that salon look, it is worth giving it a try. After you have softened them, carefully push them back using a cuticle pusher. Trim any loose skin or hangnails but do not cut your cuticles as this can be the cause of an infection.
Apply the jojoba oil: Apply a small amount of jojoba oil to a cotton pad and apply to each finger, gently rubbing it into your cuticles.
Massage into the cuticle: It may take a little longer to massage the oil into each cuticle but it is definitely worth it to enjoy the best results. Doing so will ensure the oil is fully absorbed so you don't leave greasy fingernails around your home. If there is some oil left on the skin after application, simply wipe away with a tissue.
When is the best time to use jojoba oil for cuticles?
Ideally, jojoba oil should be applied to the cuticles every time you wash your hands, as this helps them from drying out. However, that isn't very realistic, given everything else you need to take care of throughout the day.
A good time to apply jojoba oil to your cuticles is before you paint them, although ensure that the oil has been fully absorbed. Otherwise, the polish won't adhere properly to the nail. Jojoba oil also works as well on naked nails, so anytime your cuticles appear to be too dry, you could apply some to keep them hydrated.
Apply jojoba oil before you go to bed at night, as this provides more than enough time for it to fully soak into the cuticles.
How long do I leave jojoba oil on?
You don't need to worry about washing jojoba oil off your skin after application. The longer it is on your cuticles, the better it is for them, so you can wait until the next time you wash your hands before you need to apply any more.
Does jojoba oil expire?
Fresh jojoba oil will have a light golden hue, so if you see any changes to the colour, it could mean that it has gone off or expired. If you purchase good quality jojoba oil from a reputable seller, you can usually expect it to last for up to 2 years before it needs to be replaced. Storing the oil in a dark, cool location away from direct light and heat sources can help to maximise its lifespan.
Does jojoba oil help with nail fungus?
Jojoba oil can prove very effective at combating nail fungus. Once massaged into the cuticle, it can promote better circulation, which helps to nourish the nails so there are no cracks for bacteria or fungi to enter. Jojoba oil also contains natural antibacterial and antifungal properties, giving your nails and cuticles all-round better protection.
Using jojoba oil for nails and cuticles can be a wonderful addition to your beauty routine, giving you a natural treatment that can keep them healthy. And it's not just your cuticles that will love it, but your nails, too, ensuring your fingertips are getting the TLC they deserve. You won't need to dilute jojoba oil, as it is a carrier oil and perfectly safe to apply directly. It also combines incredibly well with a huge range of essential oils, so you can offer your cuticles even more health benefits.
{ let idx = null; product.variants.forEach((v, i) => { if (v.featured_image && v.featured_image.id == $event.detail) { idx = i; } }); if (idx !== null) swiper.slideTo(idx, 0); }" x-init="() => { if (variants.length > 1) { const images = product.variants.map(v => { if (v.featured_image) { return `
`; } }) appendSlides(images); } else { if (product.featured_image) { appendSlides(`
`); } } }" >